TRUCK WEIGHING OFFICE SYSTEM

Introduction
TWOS/ TWOS Elite is a powerful and configurable software system for managing landfills, transfer stations, sand and gravel yards, scrap yards, and any other business which need to keep track of materials passing over a truck scale. It has many advantages over competing products including lower cost (in all areas of product, customization, and support), very configurable, very intuitive, and many "automatic" timesaving features.
TWOS Feature Overview
Intuitive Windows-based software works with Windows 98SE/ME/XP
Networkable to support virtually unlimited number of concurrent scales – suitable for one-scale operation or very large multiple scale landfill
Powerful, standard databases with unlimited customer accounts, trucks, trailers, and commodity materials
Designed for scale operators with minimal computer experience and managers who want flexibility and detailed reporting
Totally configurable commodity rate tables – by weight, loads, yards, or "each" – incoming or outgoing
Weighing Service option
Commodity rates can be overridden for specific accounts with the commodity rate matrix
Commodity rates can have minimum pricing and have commercial/municipal cap rate limits for each account
Taxes and structured delivery fees are optional on each transaction ticket for outgoing commodity sales. Supports up to 3 different tax rates for different states.
Tare weights can be predetermined (in trucks and trailers databases) for one-way ticketing, manually entered, or determined by scale weight with each transaction
Stored tare weights can have expiration dates with automatic prompting for re-tare
Weight transactions are recorded as actual scale readings or as manually entered
Each ticket rate information can be allowed to be manually overridden (setup option) at time of weighing
Material origin tracking, permit, remarks, and user-definable fields for each transaction
Job tracking with accumulations, high limits, and expiration dates for hazardous waste contracts
Alarms to alert scale operator of account over credit limit, tare expiration, job high limit exceeded, and job expiration date
Inventory control feature (configurable for each commodity material) keeps track of material accumulation/subtraction
Split weighing support for large trucks/trailers and small truck scales
Re-Print and void ticket capability
Ticket and report formats configurable by end-user
Comprehensive reports include end of day cash sales, end of day cash/check reconciliation, end of day account summary, end of day commodity activity, end of day detailed ticket transaction, account detail/summary report for period, commodity activity detail/summary report for period, ticket transaction detail for period, job activity detail/summary for period, truck history for period
Tickets and reports can be previewed on screen prior to printing
Unlimited user accounts with many levels of security. Password file is encrypted for greater security
Many user-definable setup options including company address and logo for inclusion in reports, auto incrementing ticket and invoice numbers, printing/reporting options, ticket printer definition, report printer definition, transaction screen options, shared directory location for network environments, traffic light control options, billing options, and much more
Built-in scale device driver supports virtually any type or brand of truck scale indicator. TWOS purchase includes free custom driver support for your scale if not already provided in scale list.
Automatic electronic cash-drawer control interface
Up to 4 independent "companies" may be defined for the system – each sharing the same scale but separate transaction, accounts, commodities, and trucks/trailers databases. Switching to another company can be done at the time of ticketing.
Manual or scheduled backup/restore of all data to network server, fixed disk, or removable disk such as zip or memory stick
Capability of archiving ticket transaction data and later retrieval for reporting
Ticket transaction data can be exported for use with an external accounting program (or use with our integrated accounting module in TWOS Elite)
Sticker sales area for those municipalities wishing to admit residents only into transfer station. Imports residents from external tax or motor vehicle database.
Written in Visual Basic and utilizes Crystal Reports for customizable reports
User-specific customization (such as GUI and reports) is available for a nominal fee
Additional system program customization and software training available
Optional yearly software maintenance and support contract provides free upgrades and 8 hours phone/on-site support
Support can be provided by long distance through PC Anywhere or the Internet (gotomypc.com)
TWOS Elite - Added Features
Accounting/billing module supports automatic invoice generation for all transactions in a given period – a few mouse clicks will generate and print ready-to-mail invoices!
Additional accounting features include ready-to-mail statements (with built-in interest charge calculations for overdue accounts), entering/posting payments, entering/posting adjustments/credits, and reports for aging, account receivable activity, billed finance charges, open invoices, and retainage (escrow account) activity
Billing system can be located off-site. Databases can be synchronized by daily "upload" disk, automatic modem dial-in to billing site, or shared on a connected network.
Comprehensive audit trail tracking details modifications made to databases by whom and when
Traffic light control with optional traffic light control hardware module
Video camera capture module records a picture of each transaction (requires capture card and outdoor heated camera, available separately)
Scale activity log records all vehicles going over the scale regardless if a transaction was processed. Use with video capture module to record image of each activity.
RFID support for automatic vehicle recognition and unattended operation (requires RFID transponder and RFID tags, available separately)
Support for outdoor ticket printer for unattended operation application
Applications
Landfill and Recycling
Town Transfer Station Management
Solid Waste Management
Sand and Gravel
Forestry and Mining
Scrap Yards
Grain Facility
Asphalt Plant
Pricing
Base TWOS system with support for one scale and an off-site transaction data collection system (for billing and reporting). Includes installation (within 125 miles of Rhode Island), half day training, custom scale driver programming, some custom ticket design, and one year updates - starts at $2500.
Invoicing and Statements module with many types of accounting reports - add $1500.
Additional per seat license (extra scales, finance dept personnel, etc) - add $500
Computer-controlled cash-draw option - add $500
Traffic light controller module in metal case (you supply traffic light) - add $500
Yearly maintenance and support (after the first year). Includes up to 8 hrs voice phone/email/on-site support, some travel (when required) - $1000
If you would like something added that the software currently does not support, we can accomodate your needs with customization.
Requirements
At least Pentium III based PC running Microsoft Windows 98SE/ME/XP, 1024x768 graphics card, mouse/touchscreen, serial port for scale, dot-matrix printer for tickets, laser printer for reports. USB port for backing up to memory stick.
We require either PC Anywhere/dedicated phone line or Internet/gotomypc.com for connection into your computer(s) for remote support.
Central Scale
If you are from RI/CT/MA and are looking for a truck scale or a complete turn-key installation of a scalehouse building, etc, please contact Matt Geisser at Central Scale, Warwick RI -- (401-467-7500) -- they've been in business for over 60 years.
A comprehensive brochure package with screen shots and sample reports are available upon request. We are also available to visit your facility and provide a demo of the software. References from our existing municipal and commercial customers are available upon request.

SCREEN SHOTS

A few screen shots of TWOS....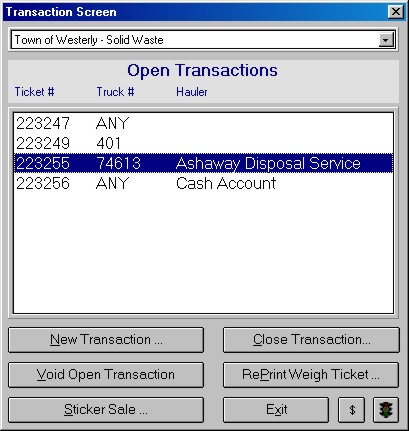 Open transaction screen - where the weigher is able to start a new transaction, close out an existing transaction, void a ticket, or reprint a ticket.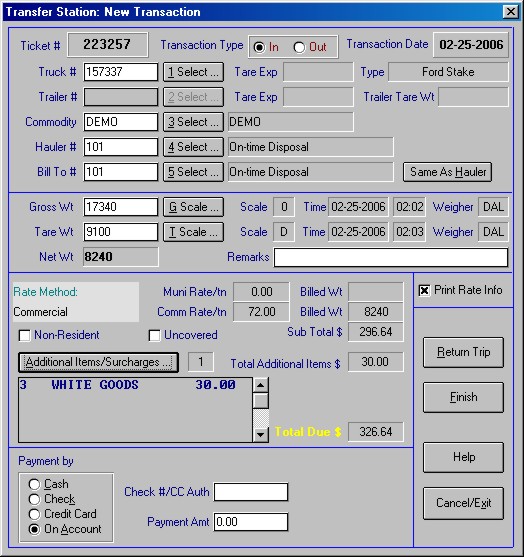 The main transaction screen.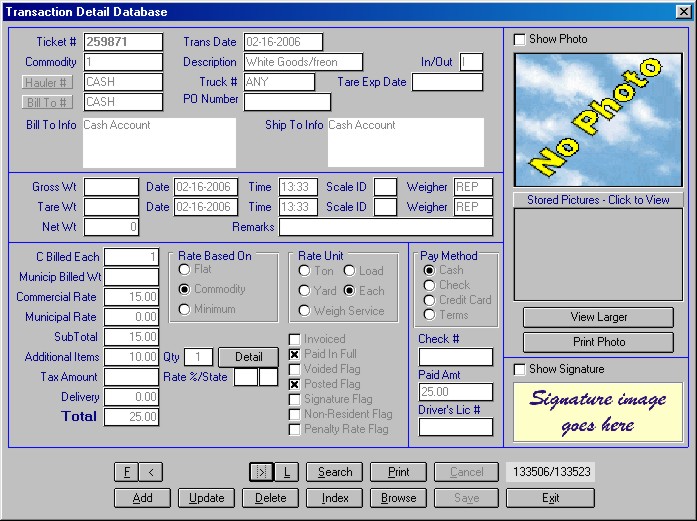 Everything about a transaction is stored in its own database. Privilaged users can have access to this database.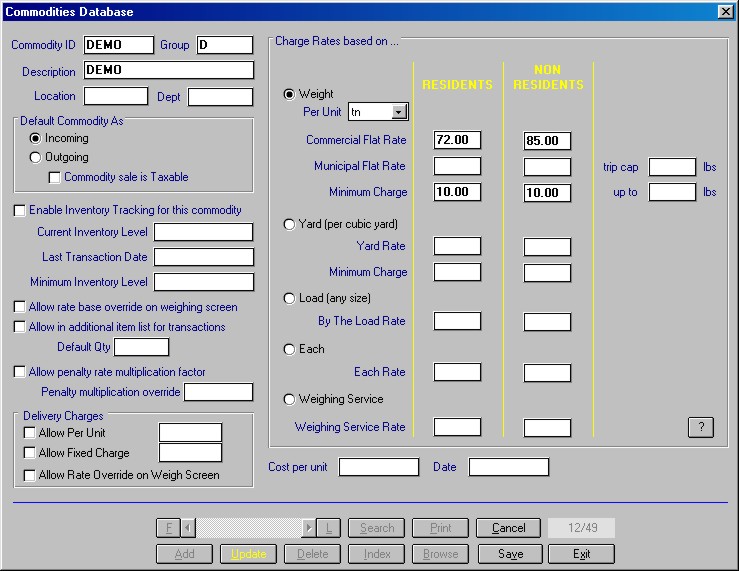 There is much flexibity in setting up rates for different commodities.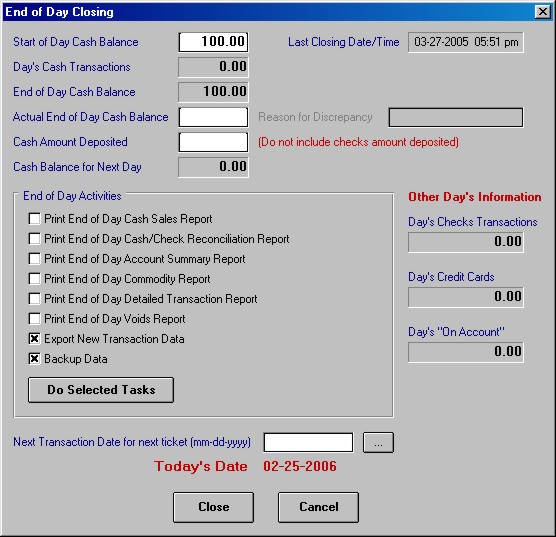 End of day closing makes it easy for the weigher to close out the day's transactions and perform a number of tasks.